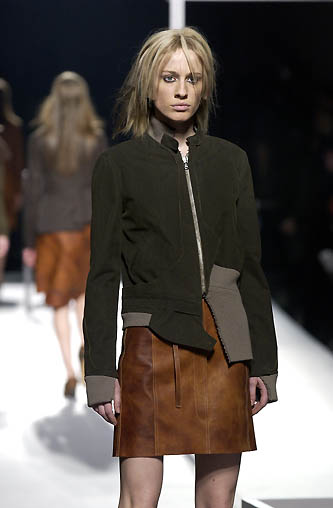 Hussein Chalayan, F/W 2002 Deconstructed Suede Jacket


For his F/W 2002 collection Chalayan once again put on a show that was nothing but thought provoking for the audience. Beginning the show with a single model walking on stage dressed in what was clearly a genuine traditional costume, then stood completely still for fifteen long minutes creating a restlessness and discomfort in the crowd. Following on the show presented many of Chalayan classic details including asymmetrical cuts, free floating pieces of fabric and deconstructed tailoring. After the show, Chalayan revealed that the traditional costume came from a region of eastern Turkey, but refused any further explanation, saying, "Interpret it as you will."


This conceptual piece encapsulates the show entirely, featuring the distinct deconstructed panels on both the bottom hem and neckline. The asymmetric nature of the jacket along with the contrasting materials gives it a unique appearance that could not be repeated. This zipped jacket features a press stud neck and pocket details on the arm, front and inside of the garment. The layering of materials almost gives the jacket a paper-like aesthetic, fitting with the designer's history who once made an airmail dress. This piece is a genuine time capsule highlighting the nature of Chalayan's work earning its spot as a part of the permanent collection.

Size 42.

Part of the Permanent Collection.