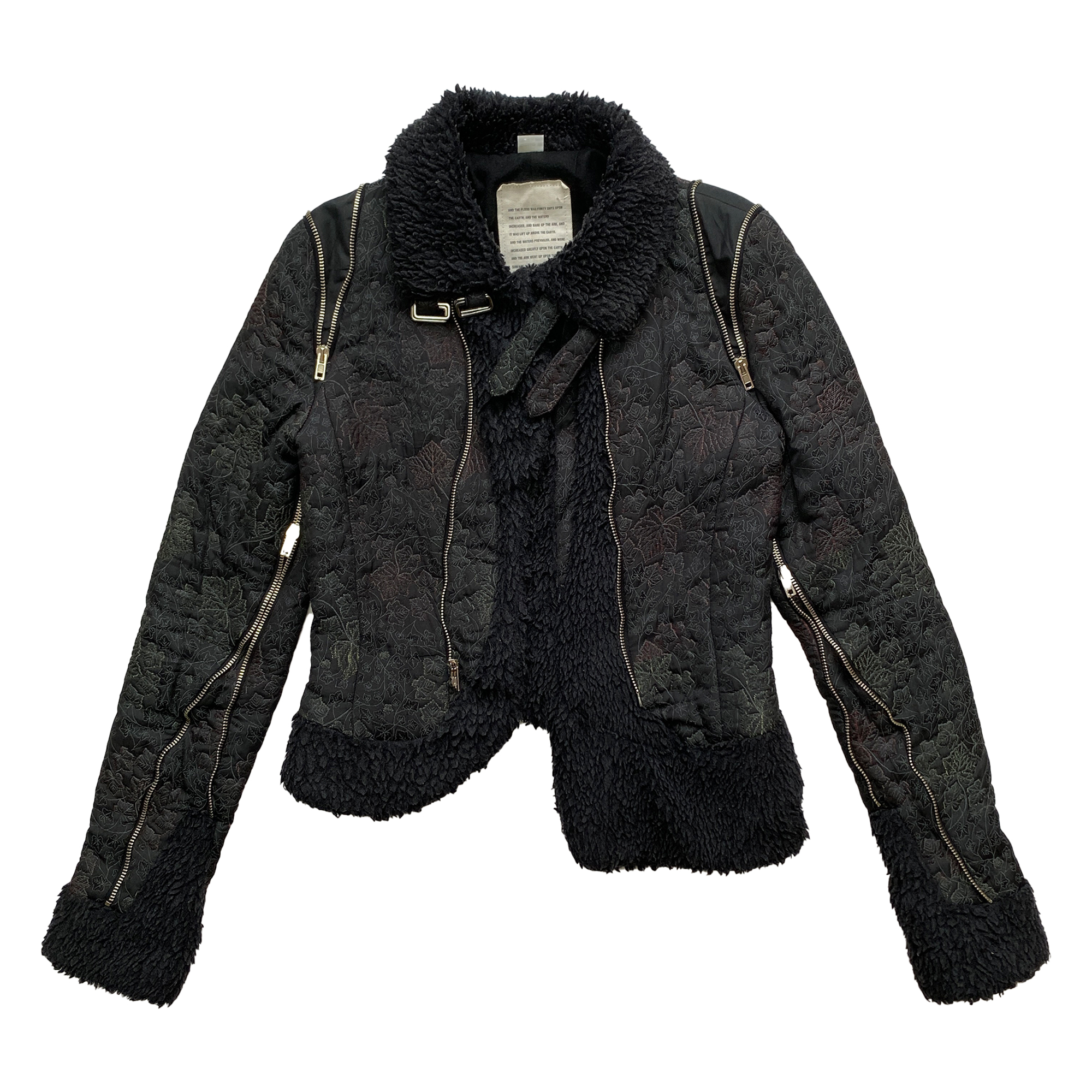 Hussein Chalayan, F/W 2003 Zipped Jacket


Hussein Chalayan's Fall Winter 2003 runway opened with drapey dresses, waif thin pants, and combination of utility and patchwork jackets adorned with embroidery and zippers. These outfits were paired with perfectly moulded tight dresses made of leather and the likes of high heels which perfectly executed the vision Chalayan was projecting. His own distinctive aesthetic revolves beyond trendiness, but in more influential abstract layers onto clothing - such as the meshing of ethnicwear into seemingly urban materials such as cotton, leather, and denim. What might be seemingly experimental is actually the concrete of his cool conceptualisations and abstract narratives: such as noting this show's runway imagery from performance art to inflatable pockets next to a wooden ship symbolised Noah's Ark for his design.

This Zipped Jacket is a stellar example of his desires to combine traditional Turkish quilt patterns and exposed zips to create a dynamic, new-age piece which borders between rewired functionability and casual chic. The front features two adjustable zips down both sides of the center allowing for a tighter or looser fit, alongside two adjustable long zips up both shoulders. Although mirrored zippings can be seen at the wrist, they are not conjoined, allowing for a dynamic feel to the piece. The quilt allows for a padded, comfortable feel whilst the neck can be transformed into a collar, allowing for further comfort and warmth, showing Chalayan's practical nature using traditional materials. A muted colour, the pattern serves as an interesting shift from black, enlisting its spot as an interesting and timeless piece in our permanent collection.