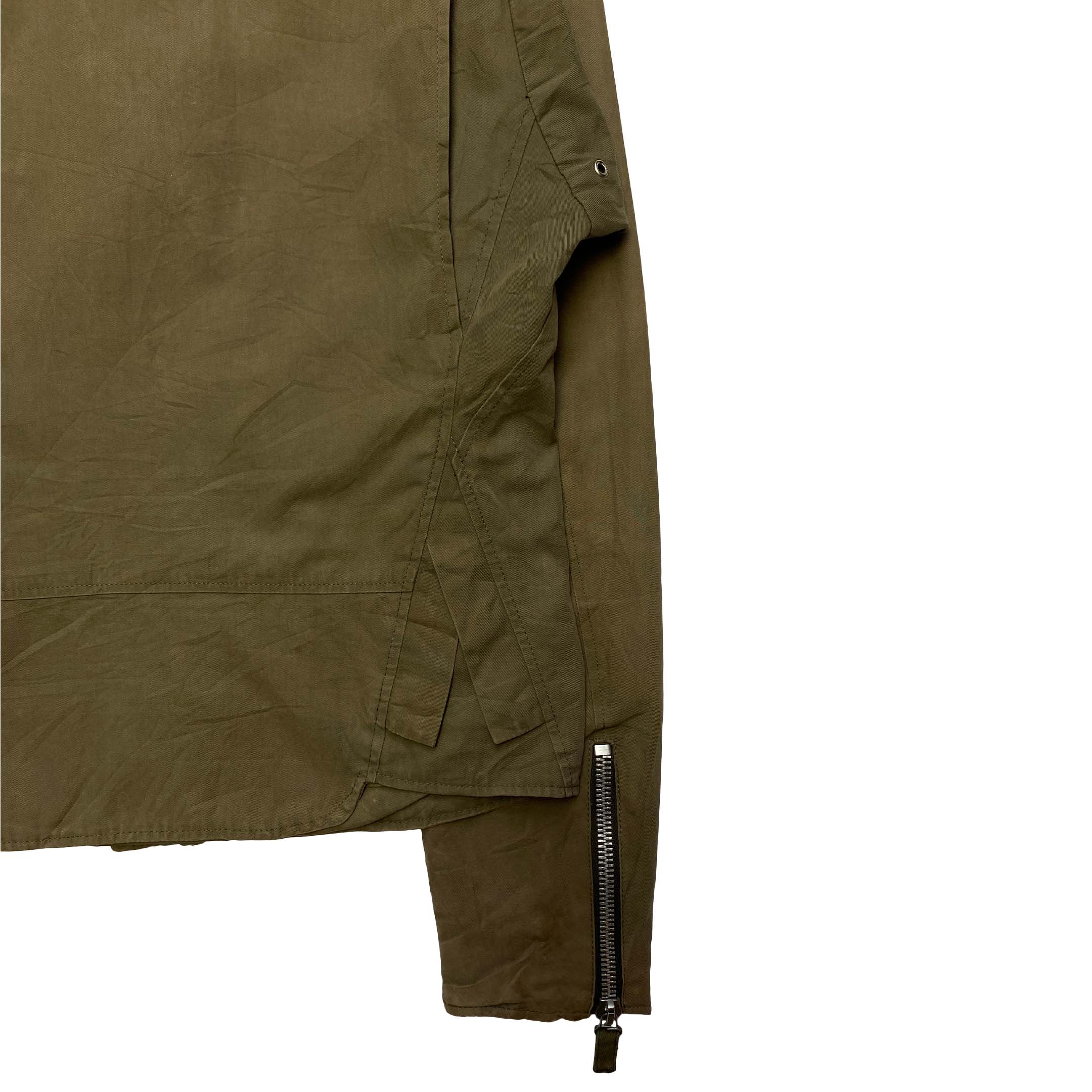 Helmut Lang, S/S 2004 Vintage Faded Cotton Biker Jacket

Helmut Lang's S/S 2004 collection is considered one of he most refined and selective of his career. Focusing on the 'lightness of structure' of dragonflies as inspiration, with multiple ensembles seen that were intensified by the use of abstracted shapes, elastic straps, cut-out sections and a wide range of saturated colours. Infamous styles such as the MA-1 bomber and mummy jeans were re-imaged in new fabrics and adapted detailing, with the star pieces being the bottle cap leather perfectos.

Here we have a wonderfully executed classic perfecto jacket with Helmut Lang's subtle added detailing and sleek pattern cutting in vintage sun-faded khaki green cotton cotton. His revolutionary pattern making shines in this piece, particularly in the rear panel seams where we see articulated under arms and gussets which allow for higher comfort and stay true to the perfecto style. There are 4 pockets across the front of the jacket, two lower reverse zip, one higher chest zip and lastly a coin pocket with a button snap closure. Other details include Helmut Lang embossed snaps, breathable armpit vents, wrist zip adjustment and an inside chest pocket.

Size 48.

Chest: 52cm
Shoulder: 46cm
Length: 57.5cm
Sleeve: 67cm

Condition 7/10 (fading throughout, slight distressing to cuffs, minor marks across the jacket and small hole on upper back, all of which add a worn in look desirable in this colourway).


£340 £280